CASE STUDY
New Construction:
JW Marriott Marco Island, FL
JW Marriott hired Pinnacle to help develop 10K Alley a high end gastro pub and entertainment concept built for corporate events as well as families.
OUR PLAN
The JW Marriott Marco Island team designed a new tower to add to the already expansive property. The General Manager identified an approximately 13,000 square foot storage space that he felt was underutilized and should be activated. The property has significant outdoor entertainment options including a beach, pool, and various day trips to go fishing, snorkeling, and touring. However, when an afternoon storm rolls in as well as in the evening there was very little entertainment on property. Pinnacle was hired to join the Marriott team and develop the storage area into a premium entertainment space, appropriate for both corporate events and families on vacation. The project was fun but challenging because the space was awkward and included large metal roof trusses angling through the room. The Marriot teamed identified a steam punk themed bar with high quality food. We identified as attractions Highway 66 Bowling with high end masking units and furniture, a 6 hole mini-golf course highly themed by Creative Works, Hologate VR, and 2 golf simulators. These attractions all worked for corporate events and family guests and were able to fit around the perimeter of the space, with a first class redemption arcade in the middle, complete with a themed redemption room.
EXECUTION
The property owner was willing to invest in the bar/restaurant and Marriott was willing to manage the guest service and corporate sales labor, however the owner wanted an outside operator to invest in and operate the amusement space. Pinnacle needed to find an operator willing to invest over $1 million in equipment and operate on a revenue share. After an RFP was issued and the proposals vetted, we identified Tricorp Amusements (Since acquired by Player One Amusement Group) as the best candidate. They stepped up for the significant investment in equipment and to operate and maintain the entertainment components, sharing revenue with the property.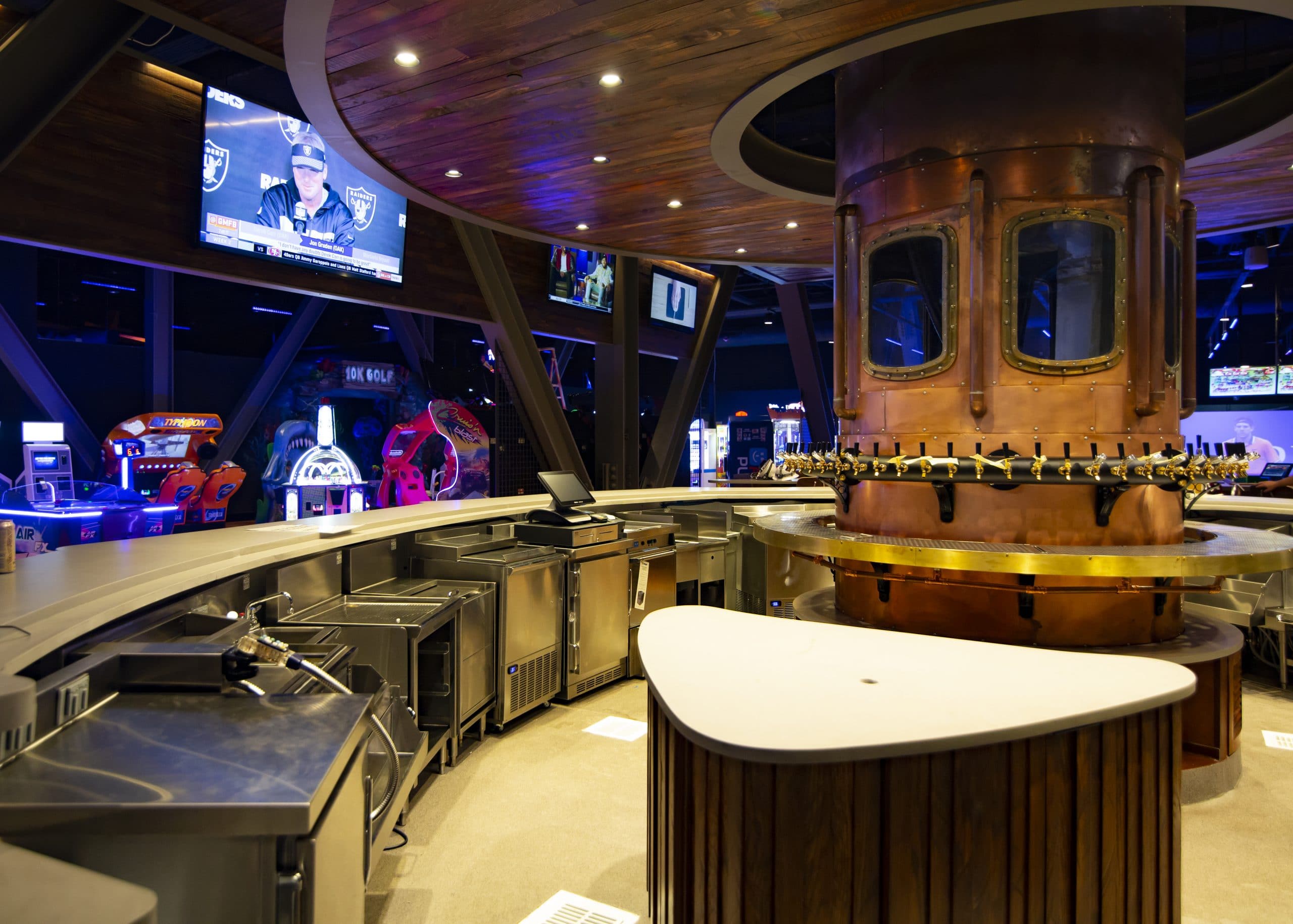 RESULTS
We fine-tuned the space and delivered a beautiful project that is very popular with corporate guests as well as families. The project has been a homerun, producing excellent return on investment for both the operator and the property, a true win win for everyone.